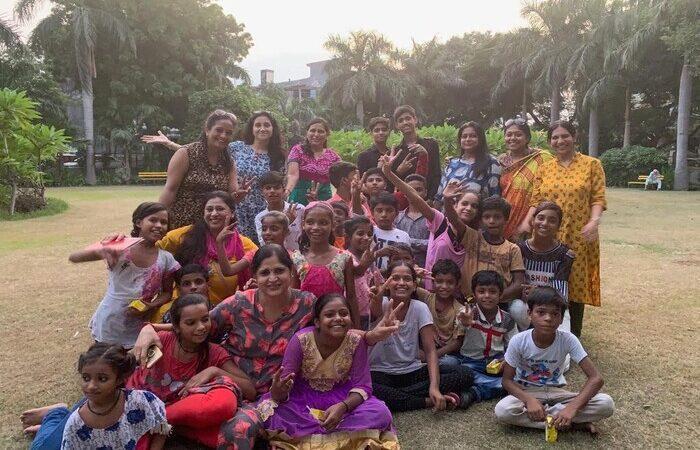 A lack of access to basic education, is one of the the leading reasons behind these statistics. You, however, have the power to change this equation! When you sponsor a child for as less as ₹1000 or even more,as per your choice, you give them the resources needed for education and empower them with access to basic necessities of education, thus helping them to raise the standard of living for his/her families and communities.
The Start of Something Special :
Saakshar Hum's student  sponsorship programme encourages you to build a personal connection with your sponsored child. As part of the program, the donor/ sponsor  will receive:
A welcome pack, with photos and a profile of the child you're sponsoring and his/her community
A letter or drawing from your sponsored child, to which, you have the opportunity to correspond with as well
An annual update on the progress the sponsored child and his/her community are making along with information on the activities Plan India is supporting in the community
An annual tax receipt and an opportunity to communicate with your child and visit his/her village
Through our student sponsorship programme, children gain an education for his primary and secondary schooling , and other educational resources and tutoring support which opens opportunities for them and helps them grow as individuals to become empowered citizens.
Some such children who have benefitted from our sponsorship programme :
Sunil Anuragi:
DOB: 12 Nov 2003
Father's name : Ramanand Anuragi
Mother's name: Maya AnuragiSunil is the eldest son in his family. He has two younger brothers Umesh and Ajay aged 13 and 12 years and two younger sisters Khushbu and Shyamali aged 9 and 8 years. His father works as a daily wager . His mother is also working as a household help.
I met Sunil 5 years back while teaching in the park of Sai Baba Mandir. He was just 11 then.
He was a very hard working student unlike his friends. The most awe inspiring thing which I observed about him was the way he would write in his notebooks. The notebooks for all the subjects would be complete .Though he would hardly understand English yet he completed all the exercises given at the back of each lesson for every subject done in the class of his English medium school. This he did effortlessly . He was so sincere. When he started coming to my home for after school studies he used to sit and learn whatever was done in school for the day. This he did without being told. His sheer hard work and discipline went a long way to make him a high scorer in this class.
He has appeared in class 10 th boards in the session 2019-2020.
He dreams of becoming a businessman .
Reena Barar
DOB: 30 th Aug 2004
Father: Fula Barar
Mother: Rati Barar
I met Reena in the park for the first time where she used to come regularly to study. She is a soft spoken girl and very well mannered. Her understanding of the nuances of life and focused approach towards studies are her very strong points.
She has 3 sisters and 2 brothers.
Her father is quite old and weak and doesn't work.
Her mother remains unwell most of the time and takes regular medications. She is suffering from liver and kidney disease.
One of her sisters who is a year older than her ,works as a househelp in some houses and earns for the entire house.
Her two older sisters have got married and two older brothers have also got married and have separate households.
Her mother is a strong support for her who always shows her dreams to excel in life through education.
Reena herself is most of the time worried that if something happens to her mother then her studies will be stopped and she would be forced to get married or to work as a household helps to earn money.
Reena does very well in her studies and is amongst the top students in her class. Her teachers like her a lot and have visions for her. She is an adorable, confident and intelligent child.
She has dreams of becoming a teacher.
Ankit Barar
DOB :
Father's name: Janki Prasad Barar
Mother's Name: Rajkumari Barar
Ankit is a smart and well mannered boy. His sharp features and outstanding singing capability are his assets.He is a very talented boy. He gets along well with all his peers because of his easy going nature. A deserving child .Ankit is surely going to go places if he is provided guidance and support.
Kranti
DOB : 8 march 2006
Father : Halke ahirwar
Mother : Ramrati Devi
Just like her name ,Kranti is a warrior. She always has a bright bold smile on her face , and is very keen to study. She came to me 5 years back as a small girl.I was particularly surprised at her mathematical skills.She was extremely good in the subject. With a little stutter in her speech, she is an adorable child.
She has 2 brothers , elder one in class 12 th,and younger in class 9 th.Her father is a maison and mother works as a househelp.Her elder brother is a disciplinarian and holds the family together with his sheer determination and perseverance.
Kranti wants to become a police inspector when she grows up.
Ajay
DOB : 29 th may 2003
Father :Halke Ahirwar
Mother : Ramrati Devi
Ajay is a happy go lucky boy who just like any other teenager wishes to hang out with friends, listen to his favourite music ,and just have fun. He is intelligent and doesn't need to study for long hours to score more. He is good in his studies , is well mannered and jovial.
His father who is a maison and mother who works as a househelp are the major source of inspiration for him .He loves his parents and also his motherland.
He wishes to become an engineer and make his country a beautiful place to live in.
Pushpa
DOB:
Father: Ramdeen
Mother: Pinky
Pushpa is a bright child. She is currently studying in class 1.
I saw her for the first time 2 years back when she accompanied her brother Rampratap ,who came to meet me to talk about her school admissions. He wanted to put her through schooling. I promptly agreed. She was given admission in LKG in Bal sagar School. Never once did this little girl give me reasons to regret my decision. She is an absolute delight to teach and a wonderfully focused , quiet and well mannered child. Her teachers in Balsagar school are happy with her.
She has 5 brothers and 1 sister. Her elder brother Rampratap is the major motivating factor in this household of 9 people where the head of the house , the father owns a miniscule grocery shop in one of the slum areas of Noida.
Her mother works as a household help in a few houses.
Their one room dwelling near their shop and their parent's sheer hard work ,vision and faith holds them together through thick and thin.
Pushpa wants to be a doctor when she grows up.
Seema
DOB: 14 Jan 2001
Father: Munna
Mother :Fula
I met Seema some 6 years back when she used to come to the park where I went to teach children. She didn't go to school at that time. After classes with me and the other volunteers she emerged as a very talented, focused and happy child. She is presently in class 8 th in Balsagar School and wants to continue her studies further.
She seems very quiet and sombre, but her zeal to participate in almost all school events and the way she is improving in her academics proves that she has more to her pensive outer personality.She is extremely responsible and accomplishes whatever task is given to her promptly. Her spirits are soaring when she is dancing or singing which are amongst her talents.
She has 2 elder brothers and 1 sister. Her eldest brother is not educated and doesn't work either. The onus of earning a living for the full family lies on her parent's shoulders completely .Her father works as a maison and mother works as a household help.
Her sister who is 2 years older to her also contributes to the family income sometimes by working as a cook in a few houses. This enterprising elder sister who is also pursuing a 10 th class education under open schooling , is a major source of inspiration for Seema.
Seema wants to finish her studies and become a doctor.