About Us - Saakshar Hum Foundation Charitable Trust
Saakshar Hum Foundation Charitable Trust was established in 2018. The purpose was to bring opportunities to people who were on the margins of society through the means of education so that they could benefit from the paradigm changes that were taking place in the Indian economy and society. It was registered as a Trust in Uttar Pradesh. Currently, it has geographical coverage of its operations in Gautam Buddha Nagar. It is registered under section 12A & 80G of Income Tax Act.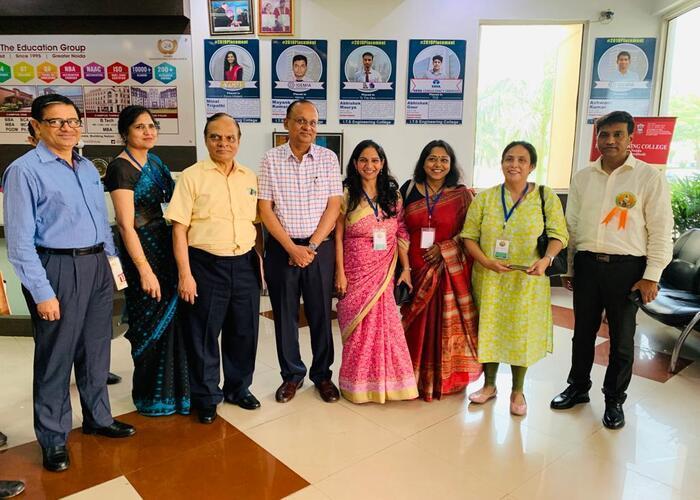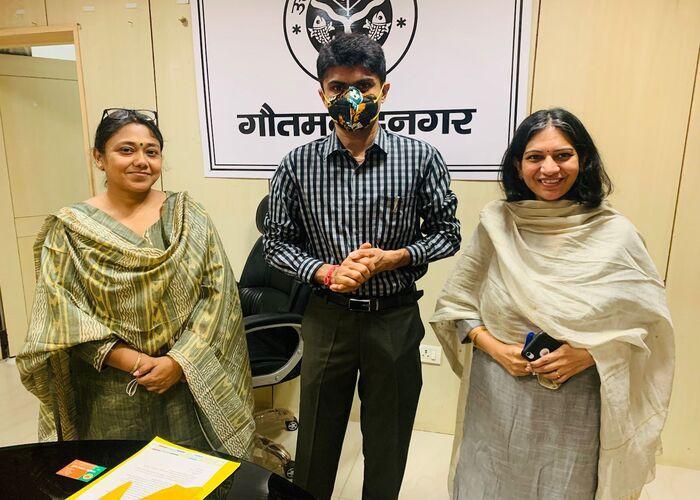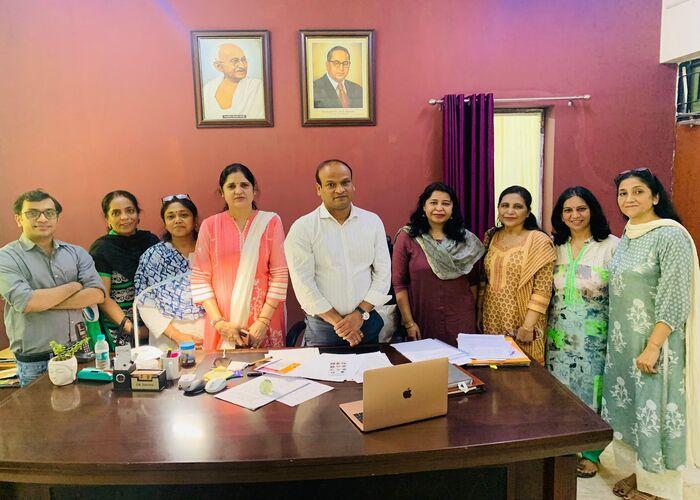 Co - Founders of Saakshar Hum Foundation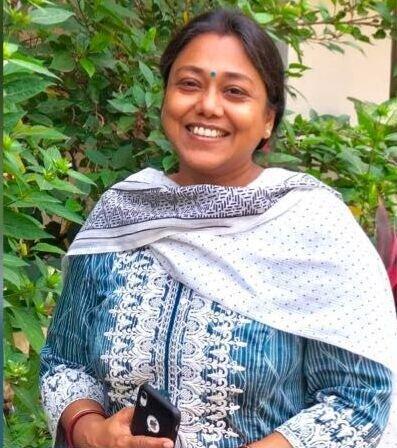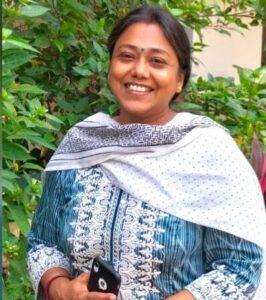 Ms. Piyali Roy
Educationist, Social Activist.
A Post Graduate in Mathematics from Department of Mathematics , Nagpur University , she is also a Gold Medalist and a Post Graduate in Education from Department of Education, Barkatullah University, Bhopal. She has over 10 years of experience in teaching in leading schools of Bhopal and Noida like Carmel Convent School ,Campion Boys School, Sapphire International and JSS public School. Her passion for education and unwavering commitment towards optimising student success, however, made her quit her regular school job and take up social work as a full time occupation. She has been working for the education of children belonging to the economically challenged section of the society for the last 10 years. She is also a Certified volunteer from Department of Education, Delhi/ MacMillan and British Council and has volunteered in Government school of Delhi as a Spoken English Teacher. She has presented a paper on "ELT as a Challenge or an Opportunity" at ELT Conference 2019 organized by Basic Education Deptt, Gautam Buddha Nagar, UP. She has completed the training workshop in Jolly Phonics which is a fun and child centred approach to teaching literacy through synthetic phonics. She also received a certificate of appreciation in 2021 for her active contribution towards the socio-environmental well-being of NOIDA. On 8 th March 2022 she received yet another achievement award from Noida Women forum for her contributions towards social cause.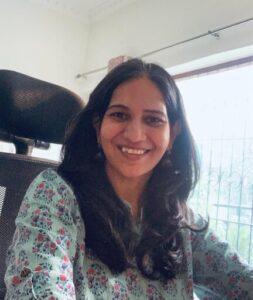 Ms. Pooja Chawla
Former Financial Consultant, Social Activist.
A Graduate in Economics from Delhi University, she did her masters in Financial Management from IMT, Ghaziabad. She worked for over 10 years with leading Corporates like Tata Asset Management ,IL&FS Invest smart and Bajaj Capital as Financial Consultant. With the unflinching urge to give back to the society Pooja left the corporate world and decided to work in the social sector from then on . Ever since , she is devoting her time to social welfare . She got an authorization from BSA (Basic Shiksha Adhikari, GBN) to teach English in government school as a volunteer in lieu of the work done in the school where she has been a volunteer teacher since 2012 . She finally co-founded Saakshar Hum with Piyali Roy . Pooja is a Certified volunteer from DoE, MacMillan and British Council. She has also completed 3 cycles of Teach India, an initiative by Times of India. She completed a certified training session of Jolly Phonics and forayed into professional training in teaching English to pre- primary and primary children . She presented a paper in ELT conference organised by Basic shiksha vibhag , Gautam Budh Nagar , UP in 2019 . She successfully conducted workshop on Child Protection for the teachers of Army Public school . She conducted training sessions for the volunteer educators of Saakshar Hum on effective new age teaching methods . For her contribution in socio environment welfare in her city she was felicitated with an award by World Class Noida presented by Ms. Geeta Phogat and Dr. Mahesh Sharma in 2021 .
Saakshar Hum Foundation Charitable Trust
The belief behind starting Saakshar Hum Foundation Charitable Trust was that quality education is the only means that can improve the living standards of the disadvantaged population. It is the most powerful tool, which can equip them to make informed and intelligent choices about their lives and future. We aim to provide education through a pool of teachers in foundational subjects to students from disadvantaged backgrounds. We believe that education is the only weapon to fight poverty and truly empower the children who will be the face of India. Saakshar Hum Foundation Charitable Trust seeks to achieve a better tomorrow through education by developing libraries at government schools and unleashing the power of knowledge that is inaccessible to millions.
Impact Saakshar Hum Foundation Charitable Trust
INTERNSHIPS
Mentored more than 50 interns
MENTORING VOLUNTEERS
40 Volunteers
NUMBERS OF SCHOOLS
School undertaken till date - 15
WORKSHOPS & TRAININGS
Numbers of workshops - 20
Saakshar hum Foundation Charitable Trust
Gained a great experience apart from attending college or bookish knowledge.. Got a chance to carve my inner story building qualities and to manage the things according to time
Ujjwal Kumar Gupta
My initial thoughts before starting off this internship was that it might only be all about paper work and all. But I was wrong. This internship taught us new and interesting things. Not only I taught students but also learnt from them. Exciting Experience.
Nandini Aggarwal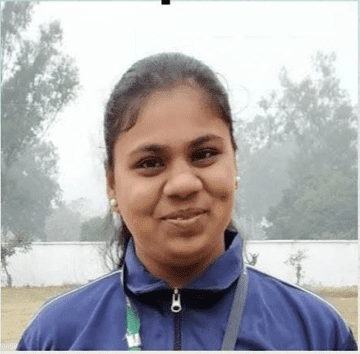 Being able to do internship with SaaksharHum Foundation was a great opportunity for me. Not only I was able to connect with students from different government schools but also found myself being determinant to do something for them. Found myself falling in love with serving students through social work. Learnt Teamwork and coordination skills as well as added a new side to my personality of a story writer, teller and being able to see world from different perspectives. A Great opportunity for anyone who wants to start off their career in social service.
Vatsala Ubhan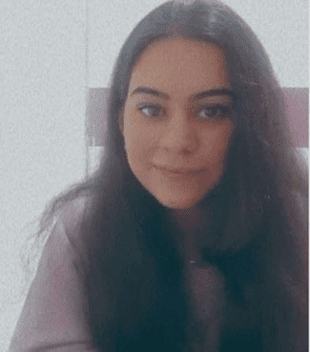 Working with Saakshar Hum has been a great experience, not only on account of following my passion to work for the underprivileged but also to learn from the peer group and the trainees. Time management and navigating through routine chores and social commitments has been bit of a challenge, but all in all my desire to work for the society has got satiated to an extent.
Mrs. Seema Raj
"I am fortunate to have been part of Saakshar Hum Foundation and really happy to see outstanding work done by them. It is the best way to stay connected with strangers. Everyone live their life for themselves, their families, Friends, Relatives but life is complete if we lives for others too."
Mrs. Kalpana Garg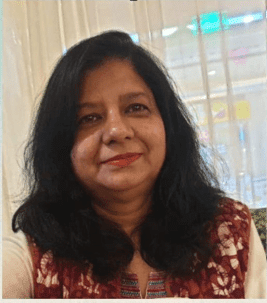 Be a Saakshrhum volunteers
The volunteers of Saakshar Hum Foundation Charitable Trust are always ready to help those in need. They go through the service with a smile on their face and make sure that everyone they come across is comfortable and safe. They have helped countless people living on the fringes of society and continue to do so every day. The volunteers are the backbone of the trust and without them, it would not be possible to help as many people as we do.