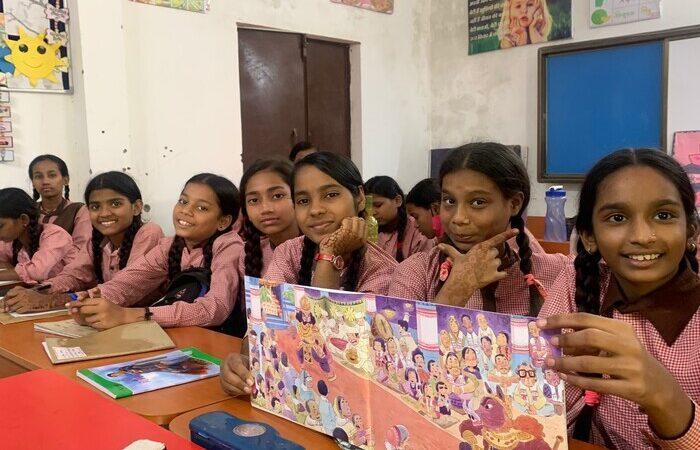 School Libraries lead the charge in introducing new technology to students, stay informed about current trends, come up with creative ideas to support learning and encourage reading, and find creative ways to further their education .
Saakshar Hum's Innovative ideas for the school library :
1. Ideas for the library space
Finding creative ways to open and promote libraries and books and provide inviting and exciting places for students to visit.
2. Ideas to support learning
Collaborating with teachers ,organisations, and the society in general to support learning and aligning resources . This invoves creating lesson plans, working with teachers to teach literacy, research and digital literacy skills and support .
3. Ideas to encourage engagement
Engaging students and encouraging reluctant readers has always been a priority and also a challenge for Saakshar Hum educator volunteers. However many volunteers have shared some fantastic ideas that have been successful in improving student engagement and encouraging reading for pleasure.
4. Ideas involving technology
Saakshar Hum is constantly looking for ways to use technology to enhance reading and speaking skills of children through library services and thus improve learning outcomes.
Some respondents have focussed on the benefits of improving the integration of digital resources with the library system, such as Federated Search, embedded videos and eBook lending, while the delivery of Makerspaces, Code Clubs and STEM programs also featured heavily in the responses.
5. Ideas for organising the collection
Resource and collection management remains an important service for school libraries and we are exploring new methods that make it easier for students to locate books.
6. Reading program ideas
Tying in to the earlier theme of student engagement, we are looking at formalising and extending "read aloud" activities by adopting models such as the "Drop-Everything-And-Read" (DEAR) program, letting children and other teachers have input in to reading programs and also involving families and friends.
7. Budget ideas
Innovation is often driven by a need to overcome a specific challenge. In the case of school libraries, where 48% of survey respondents feel that their school library is not adequately funded, limited finances have become a source of motivation to connect to the society for budget ideas.
8. Student well-being ideas
Saakshar Hum recognises that mental and physical wellbeing has long-term benefits in terms of student performance and social development. In response, we are diversifying the range of activities on offer through the libraries to improve the wellbeing of all students, but especially those who need additional support.